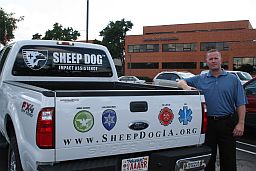 FirstArk – News from the Natural State
By: Lynn Atkins
Some people retire from the military and realize they miss it.
Not only do they miss the camaraderie and the discipline, they miss the chance to help other people.
They return to civilian life fully trained, and no longer have the opportunity to use that training. Lance Nutt, the CEO of Sheep Dog Impact Assistance can help.
Sheep Dog is a brand new nonprofit, soon to be headquartered in Rogers at the Center for Nonprofits at St. Mary's. It came about as Nutt, his father and a police officer friend were returning from a trip to Pass Christian.
Only days after the area was devastated by Hurricane Katrina, Nutt's team delivered a truck load of bottled water, MRE's (Meals Ready to Eat), and blankets. Like most of the nation, Nutt had been feeling helpless as he watched the tragedy unfold, but he chose to take action. He gathered his team, a truck and a trailer and put his strategic planning skills to use. He wanted to help without becoming part of the problem and as the team returned to Arkansas; they felt the satisfaction of a successful mission.
Now Nutt will share that satisfaction with others.
Most of the members of Sheep Dog are retired military, law enforcement or fire fighters, although civilians are welcome too. They represent a small percentage of people, Nutt explained, who feel compelled to function like sheep dogs, leading and caring for others. Their mission is three fold.
First, Sheep Dog IA will serve veterans of both the military and emergency service fields who were injured and forgotten.
It's an old story, Nutt said. Injured vets come home to plenty of help, but eventually that help drifts away as another veteran needs the same services. That's when Sheep Dog IA will step in ready to do what's needed whether it's yard work, home repairs or just a visit.
The second mission is disaster relief. Whether it's a natural disaster like a tornado or earthquake or a man made disaster like a terrorist attack, Sheep Dogs will be prepared to use their training to help. The key will be flexibility, Nutt explained. His teams may be on the scene before long term assistance organizations like the Red Cross can arrive. They'll do whatever needs to be done and when the long term groups move in, they'll be happy to move on to other tasks.
The third mission will make the second mission easier. Survival tips and disaster preparedness information will be readily available to everyone. The organization's web site https://sobeso.com/sheepdogianew_org will contain a weekly survival tip like how to survive in a sinking car. Even if only a few people are prepared when disaster strikes, that's a few less people who will need Sheep Dog's assistance.
Right now Nutt's priority is building the foundations of an organization that will sustain itself into the future. He has a board of directors in place and will open an office next month. Eventually, he would like to man that office full time, but for now he's working at a fulltime job and helping others on the side.