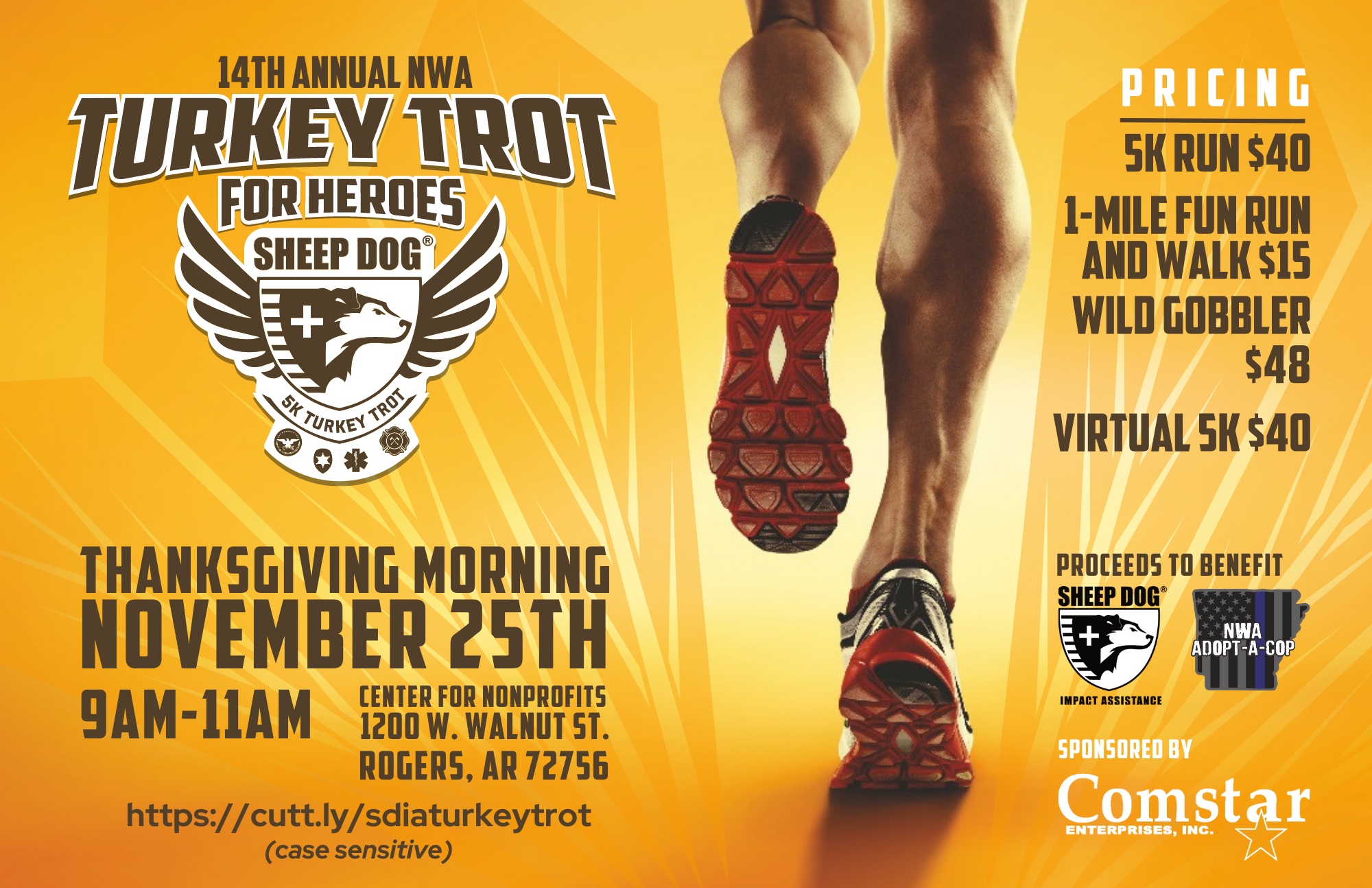 Sheep Dog Impact Assistance (SDIA) is thrilled that their 14th Annual Turkey Trot for Heroes 5K is an in-person event this year, with options including a traditional 5K, Wild Gobbler 5K, 1-mile Fun Run/Walk and Virtual 5K. Sponsored by Comstar Enterprises, participants will start and end their Thanksgiving morning event at the Center for Nonprofits at St. Mary's in Rogers beginning at 9:00AM. Registration is open now at https://cutt.ly/sdiaturkeytrot.
The Wild Gobbler 5K is a step up from the traditional 5K with the addition of five exercise stations along the route; exercises can be modified for any fitness level. Each station is dedicated to a fallen Sheep Dog, and the repetitions correspond to a hero. This year's Fallen Heroes are as follows.
The Turkey Trot for Heroes 5K & Virtual 5K are just $40 per person and the Wild Gobbler 5K is $48. These runners will receive our exclusive Turkey Trot for Heroes t-shirt with their registration, and Wild Gobblers will also receive a medal along with their t-shirt. The 1-mile Fun Run/Walk is just $15 and is geared toward families wanting to run/walk together and those with strollers. You can register at https://cutt.ly/sdiaturkeytrot.
Not a runner, but want to help? Please consider making a tax-deductible donation by clicking here or visiting www.SheepDogIA.org/support/donate. Like last year's CARES Act, the Taxpayer Certainty and Disaster Tax Relief Act of 2020 allows individuals who do not itemize deductions, including married individuals filing separate returns, to claim a deduction of up to $300 for cash contributions made to qualifying charities – like SDIA – during 2021. The maximum deduction is increased to $600 for married individuals filing joint returns.
Funds raised from the Turkey Trot for Heroes fund our programs to help our Sheep Dogs (Veterans and First Responders) Get Off The Couch™ and re-engage in living active, meaningful and productive lives through our Outdoor Adventures, Warrior PATHH training, and Continued Service programs. Participants in SDIA's programs are surrounded by peers who truly understand what they are going through and once again feel the camaraderie and sense of belonging and purpose they depended upon while serving.
For more information about the Turkey Trot for Heroes, contact Jayme Lingo at 740-502-7475 or JLingo@SheepDogIA.org, or visit www.SheepDogIA.org.