For our 6th year, Sheep Dog Impact Assistance (SDIA) has been selected as a Non-Profit Partner by Carry The Load. This is a tremendous honor and opportunity for our organization. Through this partnership, we can tell our story and what we do to a wider audience than ever before, while honoring the true meaning of Memorial Day and symbolically "Carry The Load" of those we've lost. 100% of funds raised/donated through the Sheep Dog Impact Assistance Company Team go directly to fund SDIA programs.
There are many ways to get involved, and you don't have to attend a Carry The Load event to participate with us. Whether at your home or elsewhere, you can "Carry It Anywhere" and still help raise awareness and funds for this event!
How to Get Started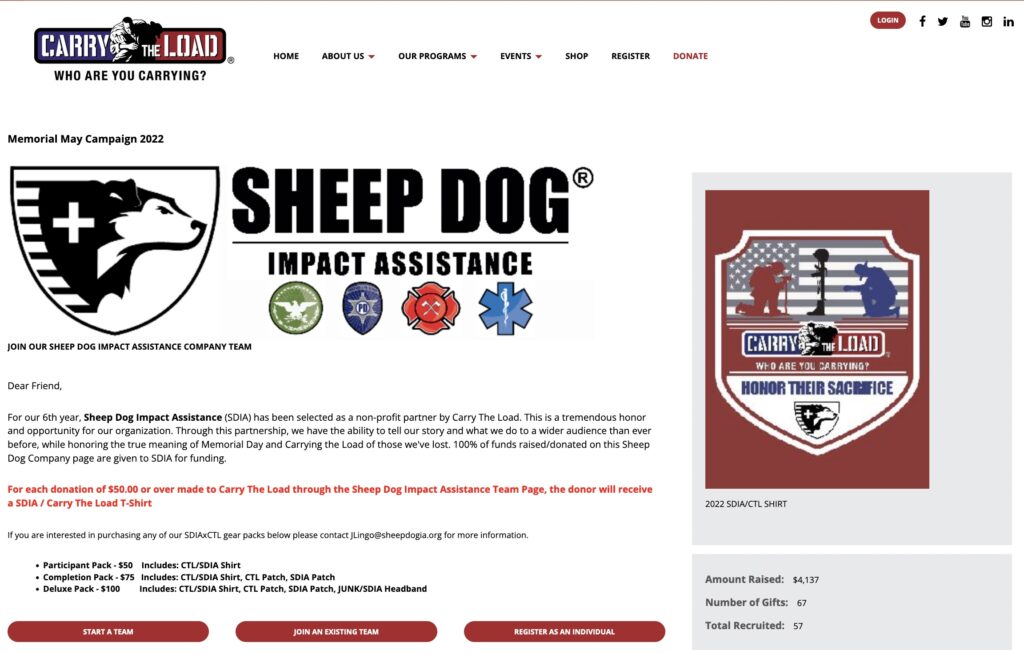 This will take you to the Sheep Dog Impact Assistance Company Team page on the Carry The Load website.
Next, choose your Team or register as an Individual.
You have three (3) options:
"Start A Team" – If you have a group you'd like to get involved, then Start A Team. Your team will be created under the SDIA Company and will appear on our page. There you will be able to see your team roster, funds raised, and compete with other SDIA teams.
"Join An Existing Team" – Click Search and you'll see a list of the many SDIA teams from across the country. Choose the one that you'd like to join, and just click on that team's name. SEE IMAGE BELOW
"Register As An Individual" – If you don't want to start or join an existing team, you can select "Register As An Individual." Your donations and any funds you raise will be counted under the SDIA Company Team.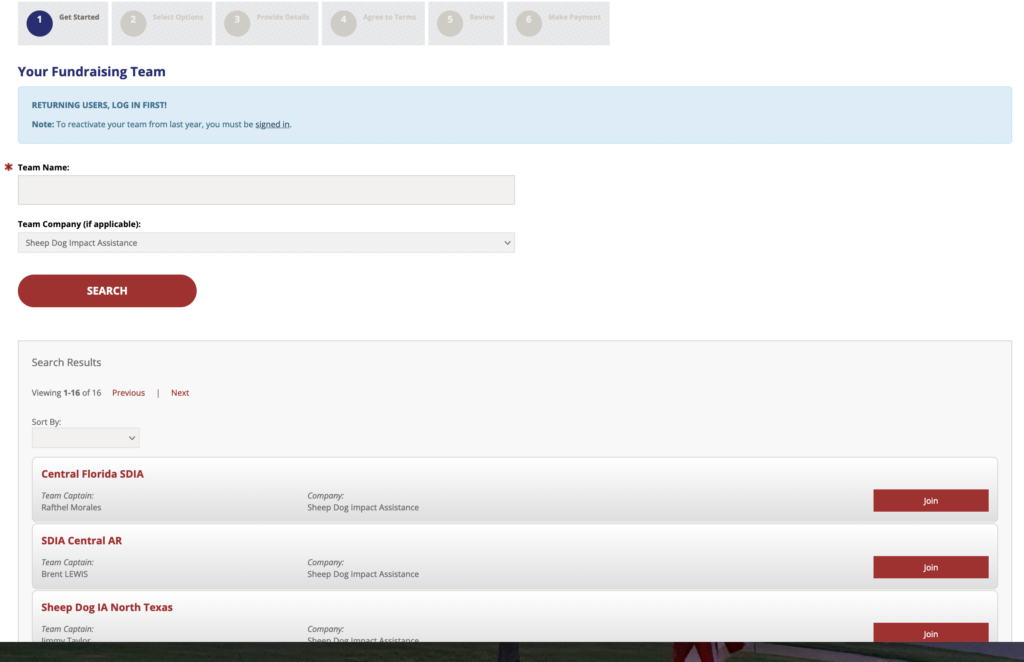 Next "Select a Participation Type".  We ask that you choose Option 2: Memorial May Fundraiser – No Fee and consider making a $50, $75, or $100 donation. With your $50 or more donation, you will receive an SDIA Carry The Load pack (see below for pack details). Additionally, if you raise $200 or more, you will receive a free t-shirt from Carry The Load as an official "Load Carrier" of the Memorial Day fundraiser. REMEMBER: 100% of donations/funds raised on our SDIA Company/Team pages come back to SDIA for our programs.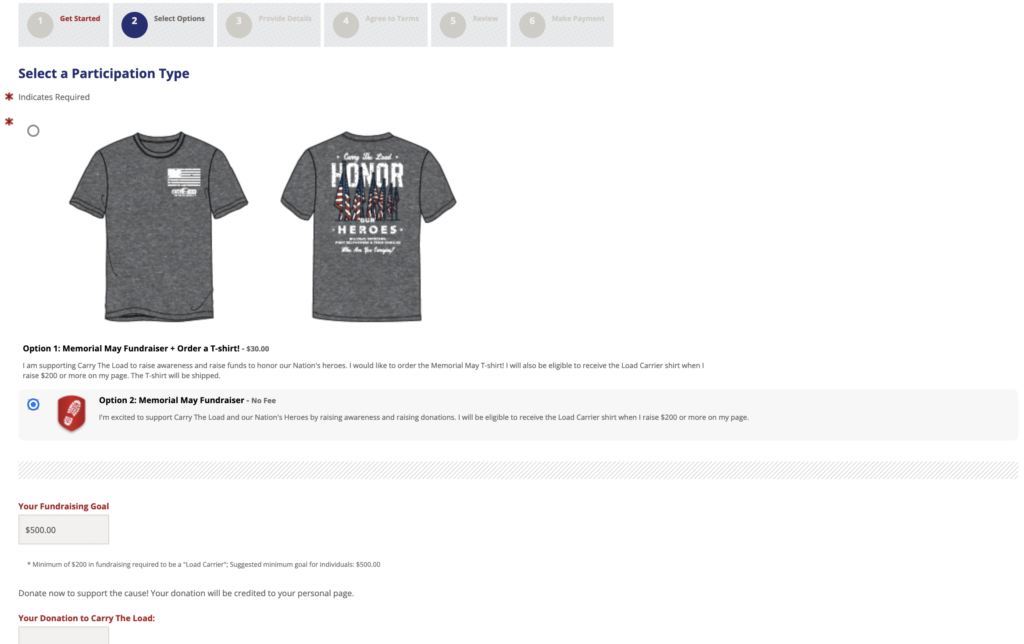 Once you complete the registration process, you can go to your Participant Center and add a Facebook Fundraiser to your profile with a click of the button. It's an easy way to ask your friends to donate to the cause as well!
You're Registered – Now What?!
Once you've registered you'll receive an email with lots of information on steps to fundraise and participate.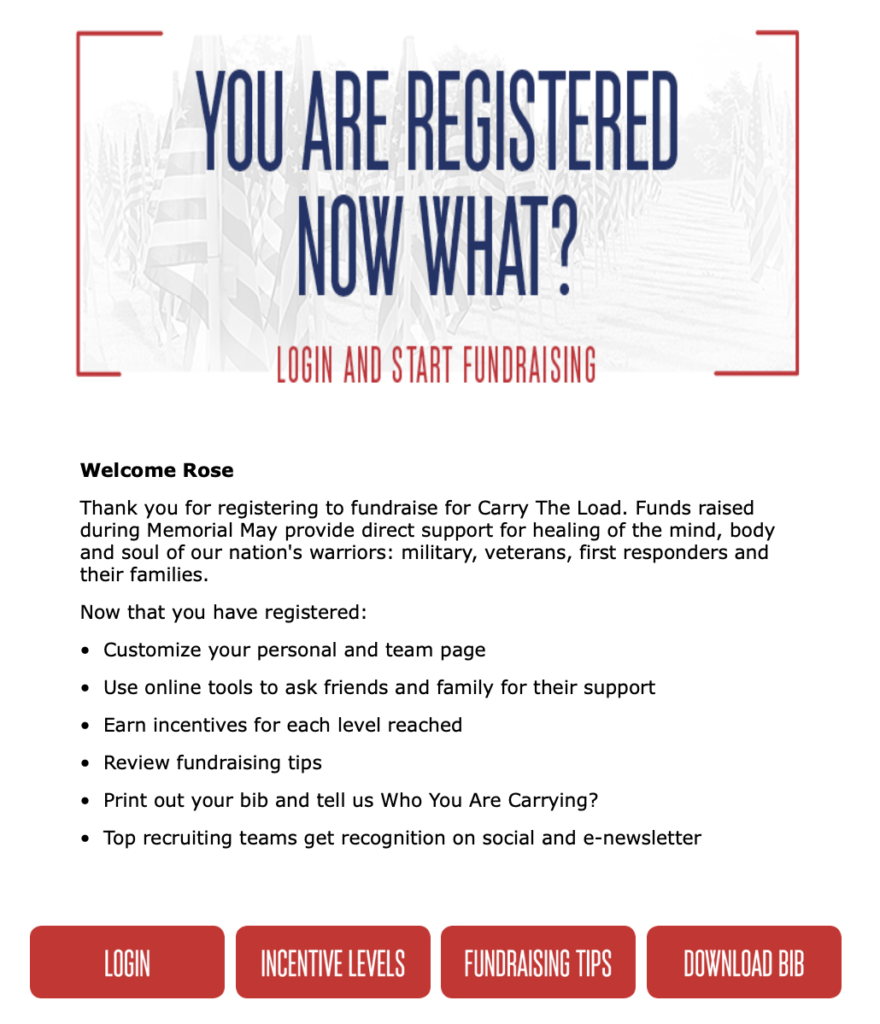 We'd love for you to link up with one of our SDIA Team/Chapter Carry The Load Teams – you can see the list of local events at the bottom of this page, but there are other options as well.
National Relays: Join up with a relay passing near you! Throughout the month of May there is a national relay with five (5) different routes across the country. Check with SDIA Teams or Chapters to see where they're linking up on one of the Relay routes.
City Rallies: Rallies along the Relay routes include the relay bus and team stopping to celebrate hometown heroes. Other rallies are stand-alone events that have grown organically. Ten (10) SDIA Teams/Chapters across the country are holding their own stand-alone events. Check back here soon for those event dates, locations, and details.
The Dallas Memorial March: The Memorial March is a 2-day Memorial Day weekend event honoring service members and their families for the sacrifices they make. SDIA will be there, and if you want to attend, contact us so we can meet and march together.
Carry It Anywhere and fundraise only.
You're on the Team – Post on Social Media!
Like, follow, and subscribe to Carry The Load's social pages:
When posting:

Tag @SheepDogIA and any SDIA Team/Chapter pages you're a part of on that platform!
Use the official #Hashtags!

#CarryTheLoad
#WhoAreYouCarrying
#AlwaysRemeber
#SheepDogIA
#GetOffTheCouch

Share how you plan to be a part of Carry The Load (i.e., a National Relay, City Rally, Dallas Memorial March, or Carry It Anywhere!

Share the story of those you're honoring and remembering who were lost in combat and/or the line of duty.

Fundraise! Fundraise! Fundraise! Why? All dollars raised by participants that join the SDIA Company or any of their teams go directly back to SDIA to fund programs that help our nation's heroes. How? Follow these steps.

Once you're registered for Carry The Load:

Login on the site
Click the Register button
A red "Participant Center" button then appears in the top right corner of the page. Here you can make sure your fundraiser is linked to Facebook, set fundraising goals, and personalize your Carry The Load page. You can also use this page to send emails encouraging others to donate, and you can thank your donors for their contributions.
SDIA Carry The Load Pack Details:
Participant Pack – $50 Donation Includes: CTL/SDIA Shirt
Completion Pack – $75 Donation Includes: CTL/SDIA Shirt, CTL Patch, SDIA Patch
Deluxe Pack – $100 Donation Includes: CTL/SDIA Shirt, CTL Patch, SDIA Patch, JUNK/SDIA Headband
Carry The Load Name Tapes: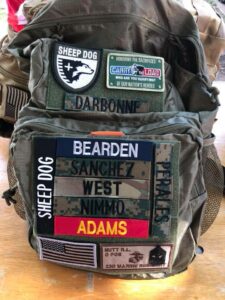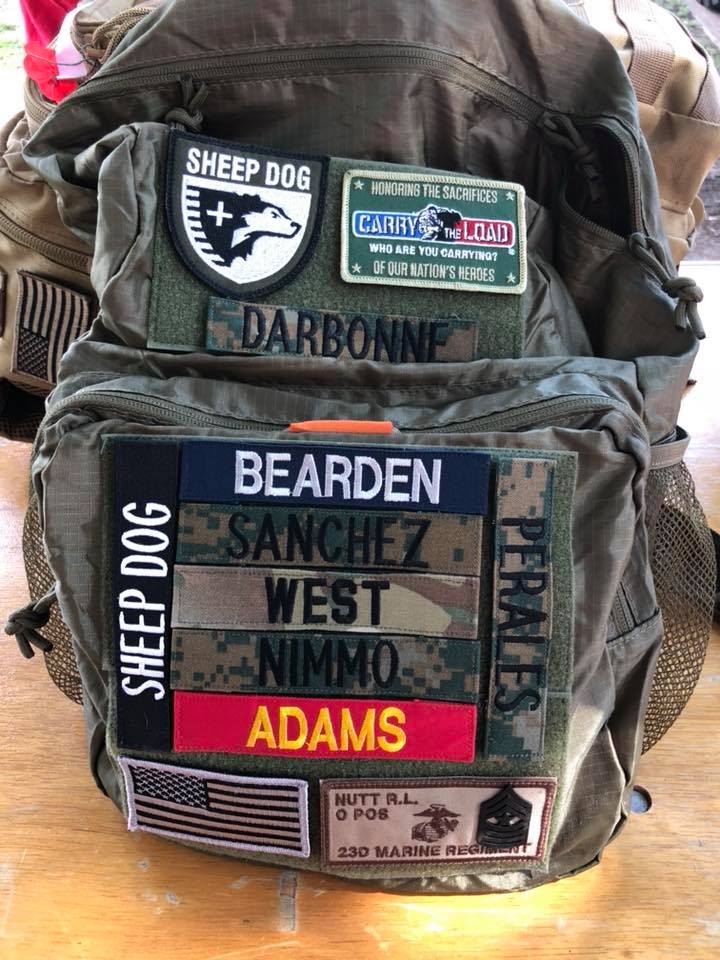 If you would like to order a name tape in honor or memory of someone who has sacrificed for our communities or country, please click here to submit your name tape order.
If you have any questions, please reach out to SDIA's Carry The Load contact:
Jayme Lingo, Event and Fundraising Director
(740) 502-7475 jlingo@sheepdogia.org
---