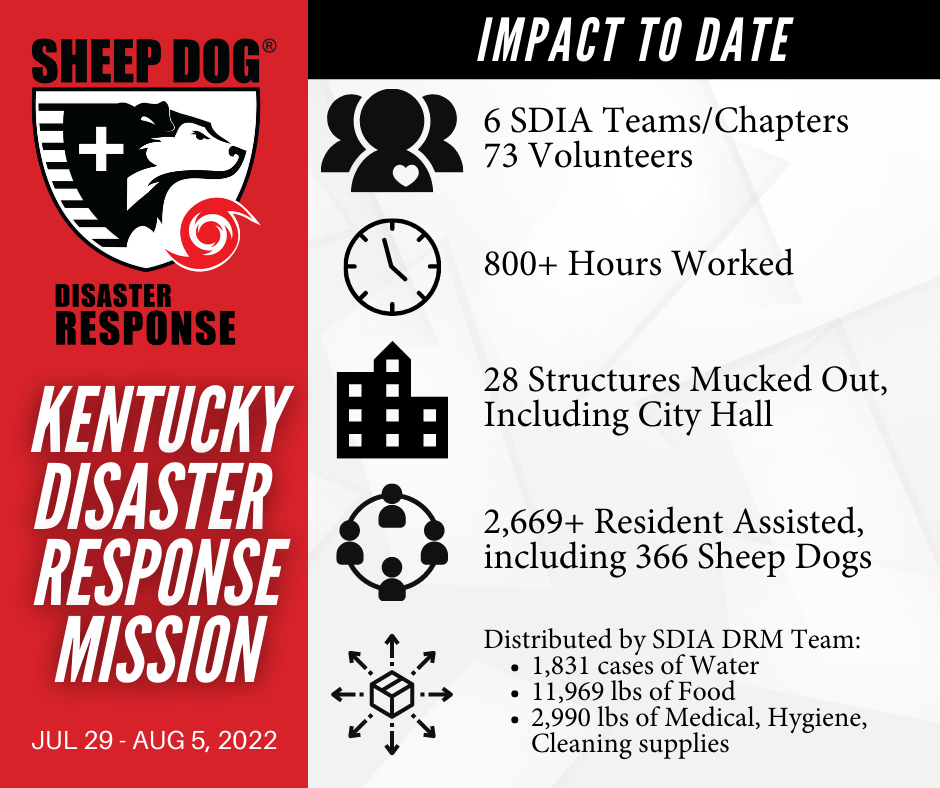 THANK YOU to everyone who has supported this Disaster Response Mission to help the people of eastern Kentucky.

Whether you have given financially, deployed on the mission, donated supplies, or however you have given back, SDIA could not help the residents of Floyd, Breathitt and Letcher Counties in Kentucky begin to recover without each and every one of you.
DISASTER RESPONSE IMPACT thru 8/5/22
6 Teams/Chapters and Members from 8 states responded (AR, GA, IN, KY, NC, OH, PA, TX)
73 SDIA Members & Volunteers deployed
800+ man hours of work
28 structures mucked out, including City Hall
Temporary City Hall & 2 Distribution Centers set up
2,699 residents assisted, including 201 Veterans and 165 First Responders
With approval of Mayor & Police Chief, Teams conducted site surveys, medical/welfare checks, administered tetanus shots
Teams distributed:

1,831 cs water;
11,969 lbs food; and
2,990 lbs medical, cleaning, hygiene supplies (including clothing and other items).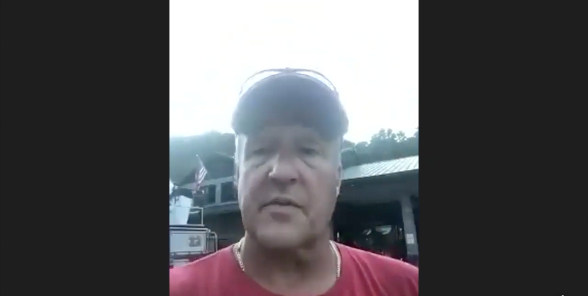 SDIA Greater Cincinnati Chapter Commander, Dave Jardon, was interviewed by Craig McKee (WCPO Anchor) and talked about the great need in the area.
SDIA was the first outside organization to begin assisting residents of Letcher County just three days after the flooding.

The Fleming-Neon Police Chief offered his heartfelt thanks to SDIA, saying that until we showed up, residents were on their own. "I don't know where our community would be without Sheep Dog's help. Your team was pivotal in giving our community hope and beginning the recovery process."
We hope to deploy additional Teams to offer ongoing recovery efforts, but need your continued support to make that happen.

If you are able, we are in need of financial donations, as well as gift cards for fuel and to Home Depot, Lowes, and Walmart to replenish supplies. Secure online financial donations can be made via our website. Gift cards and financial donations can also be dropped off or mailed to Sheep Dog Impact Assistance, 1200 W. Walnut St., Suite 2310, Rogers AR 72756.
Thank you for your support of Sheep Dog Impact Assistance, our nation's Sheep Dogs and communities affected by natural disasters.



***Please share this message with friends and family that may be interested in supporting SDIA's efforts.***