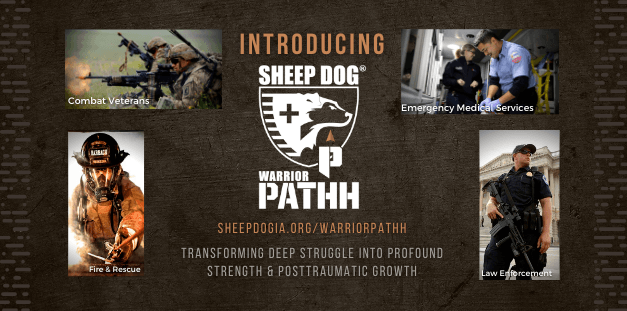 Sheep Dog Impact Assistance is honored to partner with Boulder Crest Foundation to deliver their life-changing Warrior PATHH Training for Combat Veterans and First Responders to Northwest Arkansas beginning in March 2021.
Warrior PATHH (Progressive and Alternative Training for Healing Heroes) is the nation's first non-clinical program designed to cultivate and facilitate Posttraumatic Growth (PTG). The program focuses on Combat Veterans and First Responders struggling with PTSD, depression, anxiety, suicidal ideation and other challenges associated with trauma, and teaches them how to transform times of deep struggle into profound strength and lifelong growth.

In 2021, SDIA will hold this training at Camp War Eagle while a dedicated facility is developed.
How It Works
This transformative 18-month program begins with seven days of intensive and immersive PTG training that taps into each students' strengths, skills and abilities.  Throughout the program, they learn proven techniques to regulate thoughts, feelings, and actions, connect head and heart, and have the opportunity to make peace with past traumatic experiences.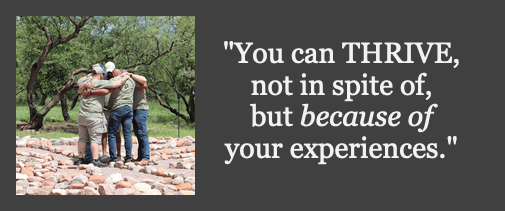 Why It Works
By connecting to a new tribe of fellow Warriors, students learn to experience stronger and deeper relationships. Throughout this process, they increase their sense of gratitude for life, spiritual or religious-life connection, and have a renewed sense of personal strength. Students will create a new, positive and forward-looking story filled with authenticity, purpose and service, and can help guide others from struggle to strength.

So What is PTG?
Posttraumatic Growth, or PTG, occurs when a person turns adversity, trauma and other challenges into positive psychological change, enabling them to thrive despite those previous experiences. At the core of Warrior PATHH is restoring the element of choice to life and learning to respond rather than react to life's ups and downs. The training program enables students to make peace with the past, live in the present, and plan for a great future. PTG offers hope that they can again find meaning, purpose and significance no matter how devastating their past experiences.


Want to Find Out More?
Interested or Know Someone?
If you are interested in living your best life, or know of a Combat Veteran or First Responder that would benefit from going through Warrior PATHH, contact us at:

SDIA is looking for community and corporate sponsors to invest in this life-changing program for those who willingly risk their lives for us every day. There are opportunities to sponsor the program with financial donations to cover meals, equine therapy, yoga and printing materials, as well as items, like technology, stationery, linens, personal hygiene and other miscellaneous items. If you or your company are interested in learning more about sponsorship opportunities, or have other questions about the program, contact Warrior PATHH Program Director Chris Jackson at 479-966-9676 or PATHH@SheepDogIA.org.

Boulder Crest Foundation (BCF) is a veteran-led nonprofit organization that helps to heal, train, and advocate for Combat Veterans and First Responders who have experienced trauma. BCF is also working to drive change across the mental health system in pursuit of a system that is accessible, effective and healthy.