Our Kilimanjaro: Climb For A Cause team has brought Veterans from all over the US together to do one of the most challenging things they've ever done – climb Mt. Kilimanjaro! They have embarked on this challenge to bring awareness to veteran suicide and to show the world that no matter what, you can do and accomplish hard things!
Our Climbers have begun their trek, and will be taking the Lemosho route. They are 8 hours ahead of us, and as of this writing have finished Day 2.
Let's get you caught up and full of Kilimanjaro facts.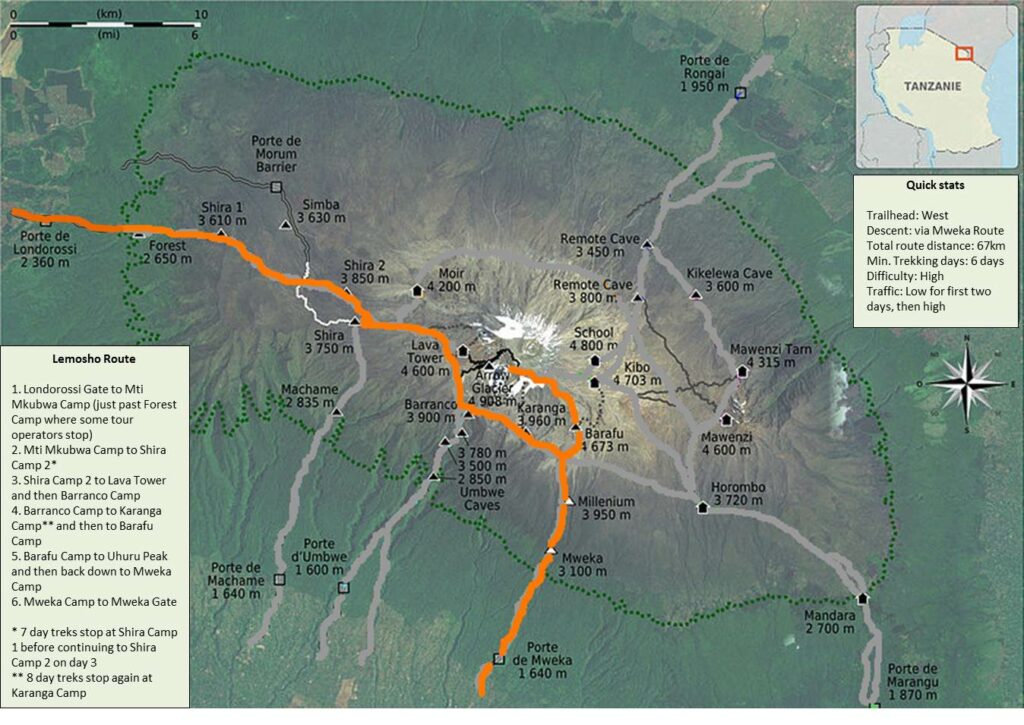 The Climbers departed the US on Sunday, August 1, traveled for 20+ hours, and arrived in Tanzania on August 2, staying in a hotel in Moshi.
August 3 they did a gear check with their guides and porters to ensure everyone had all that they need for a successful climb.
---
Check out our Facebook Album "Kilimanjaro: Climb for a Cause" to see all the photos we've collected!
---
The following daily itineraries are from their guide's website – www.NyangeAdventures.com
August 4 – Day 1: Lemosho Trailhead (2,000m/6,600ft) to Mti Mkubwa Camp (Big Tree Camp – 2,800m/9,100ft)
Elevation Gain: 800 meters/ 2,500 feet
Hiking Time: Approximately 3 to 4 hours
Habitat: Rainforest
After breakfast, the climbers were picked up from their hotel in Moshi and were driven to Londrosi Gate (approximately 3 hours from Moshi). After registration, they drove another 12km on a forest track to the Lemosho starting point. Here they entered the beautiful and undisturbed rainforest to begin their ascent up the mountain. This part is not difficult, but will give them plenty of time to adjust and witness some of Tanzania's wildlife, including black and white Colobus Monkeys and small Antelopes, and maybe even Buffalos and Elephants! After 3-4 hours of trekking, they will arrive at Mti Mkubwa Camp, also known as Big Tree Camp because of the large conifer trees that provide shade over the campsite.
Here is a link to see what their weather forecast looks like at the various elevations during the trek: https://www.mountain-forecast.com/peaks/Mount-Kilimanjaro/forecasts/5963.
---
August 5 – Day 2: Mti Mkubwa Camp (2,800m/9,100ft) to Shira 1 Camp (3,500m/11,500ft)
Elevation Gain: 700 metres / 2,400 feet
Hiking Time: Approximately 5 hours
Habitat: Moorland
On the second day, our climbers arose early for breakfast and began climbing a slightly steeper gradient through the moorland vegetation zone. Here they will start seeing fantastic views of Kibo, the summit cone of Mt. Kilimanjaro, while continuing along a rocky ridge to Shira Plateau. Shira is actually a collapsed volcanic crater and was the first of Kilimanjaro's three volcanic cones to expire. Once on the plateau, the trail becomes a little easier as they make their way to Shira Camp.
Here are two links to learn more about where they are.
---
More to come!
August 6 – Day 3: Shira 1 Camp (3,500m/11,500ft) to Shira 2 Camp (3,840m/12,600ft)
August 7 – Day 4: Shira Camp (3,840m/12,600ft) to Barranco Camp (3,850m/12,650ft) via Lava Tower (4,550m/14,900ft)
August 8 – Day 5 : Barranco Camp (3,850m/12,650ft) to Karanga Camp (3,995m/13,106ft)
August 9 – Day 6 : Karanga Camp (3,995m /13,106ft) to Barafu Camp (4,600m /15,100ft)
August 10 – Day 7 : Barafu Camp (4,600m/15,100ft) to Uhuru Peak (5,895m/19,300ft) then descending to Mweka Camp (3,110m/10,200ft)
August 11 – Day 8: Mweka Hut (3,100m) to Mweka Gate (1,980m)