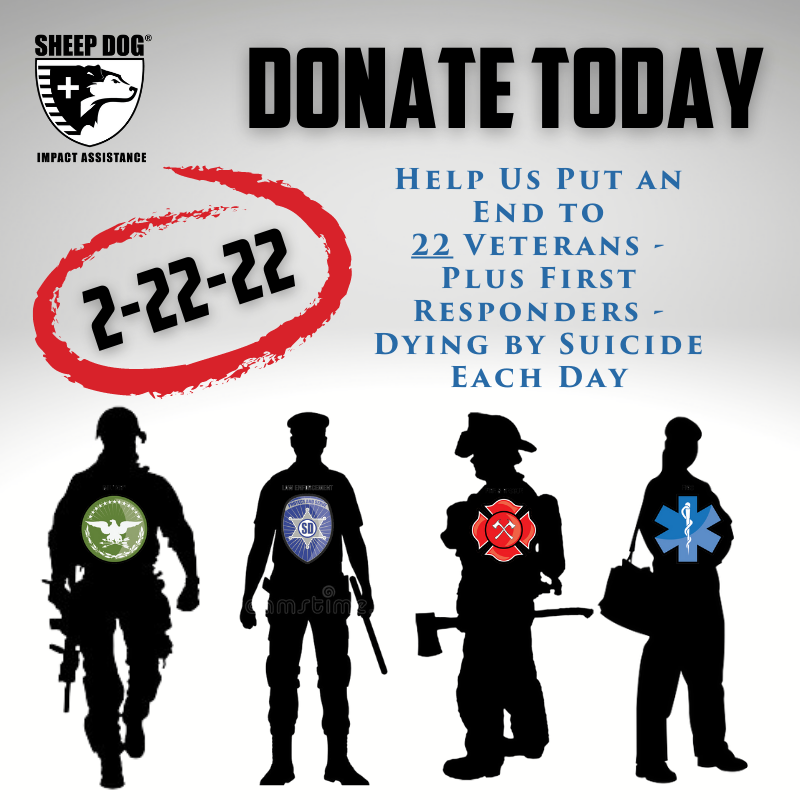 Can our nation's heroes, our "Sheep Dogs" – Veterans, Law Enforcement, Fire & Rescue, and Emergency Medical Service professionals – count on YOU?
Today, on 2-22-22, we can't help but reflect on the significance of the number 22.
22 is widely recognized as the average number of Veterans that die by suicide each day in the United States. Add to that First Responder suicides (twice as many as those that die in the line of duty) and our nation has an epidemic that Sheep Dog Impact Assistance (SDIA) is working to eliminate. And we need your continued support to make this a reality.

$0.88¢ of each dollar donated directly funds SDIA's Outdoor Adventures, Warrior PATHH training, and Continued Service/Disaster Response programs. That means your donation will directly provide a struggling Sheep Dog with opportunities to Get Off The Couch™, reengage in living their best life, and reduce suicidal ideation & attempts.

In 2021 alone, SDIA directly impacted the lives of nearly 1,000 Sheep Dogs and their families. In fact, recent surveys from SDIA program participants show that they have a:
71% reduction in trauma-related stress symptoms;
90% increase in posttraumatic growth (PTG; using your past traumas to launch you into living your best life rather than continuing to hold you back);
44% reduction in addiction behaviors;
69% increase in improved relationships; and
52% reduction in symptoms of depression.
During a recent Warrior PATHH training course, a participant shared some incredible news with our staff. As a result of his past traumas, he had suffered the same recurring nightmare every night for the last 16 years. After the 4th day of training, he had his first nightmare-free night of sleep in 16 years.
Be part of this important and life-changing work by making a donation on 2-22-22!
Options
Make a secure, online donation at https://sheepdogia.org/support/donate.
Provide needed materials for our new, dedicated Warrior PATHH Training Facility; we need lumber, framers, doors, windows, insulation, sheet rock, plumbing & fixtures, lighting, and so much more! Contact JLingo@SheepDogIA.org if you or your company can help!
Volunteer to work for a few hours or a day at our office or at Heroes Ranch. Email Info@SheepDogIA.org with your name, phone number and availability.
Don't let this unique opportunity pass you by to make a positive impact in the lives of those who put their lives on the line for us each and every day.
Thank you for your continued support and belief in SDIA & our mission. We truly could not do it without YOU!