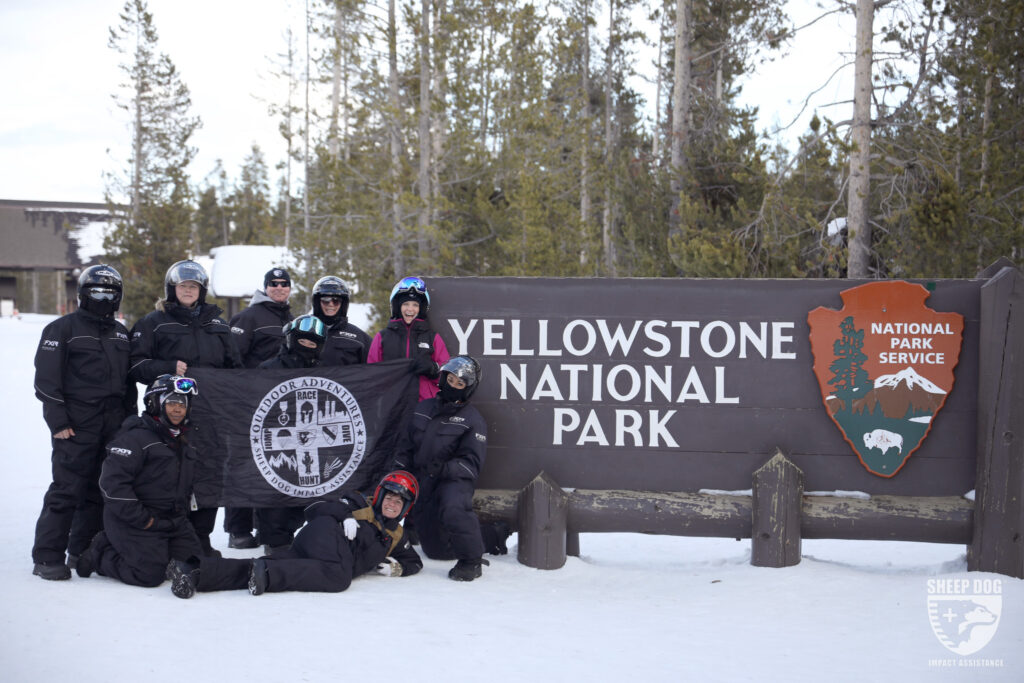 Last weekend, 57 Sheep Dogs returned home after spending five days with Sheep Dog Impact Assistance (SDIA) in the picturesque wonderland of Yellowstone. The group traveled from all over the United States to experience camaraderie, snowmobiling and other activities while visiting West Yellowstone, Yellowstone National Park and Yellowstone National Forest.
While the Yellowstone trip has been an annual SDIA Outdoor Adventure (OA) since 2019, this was the first OA for many of the sponsored Sheep Dogs. Though excited for the adventure, some felt nervousness and anxiety, too.
"Most first-time participants are eager to do something they've not done before, but there's usually a bit of anxiety, too, because they typically don't know much about SDIA yet and don't know what to expect on the OA," said SgtMaj Lance Nutt, SDIA's founder and CEO. "After the first 24 hours, though, they know that they're with fellow Sheep Dogs who are dealing with many of the same issues and challenges, and the walls start to come down."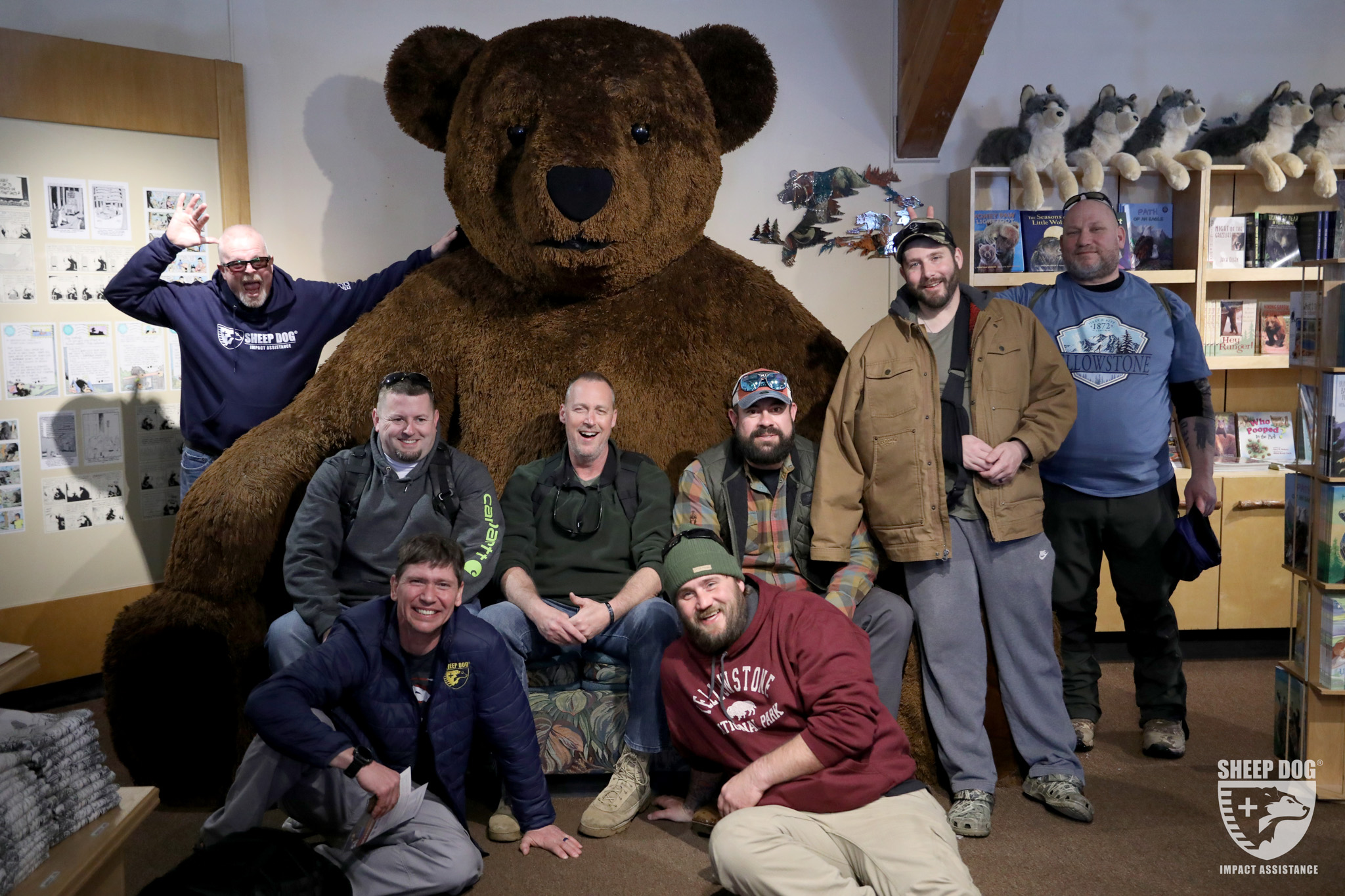 Being with fellow Sheep Dogs and like-minded people to share stories, struggles and laughter is what most OA participants say is their favorite part of the trip. The camaraderie and bonding are crucial for these heroes and for many, it's the first time they've felt it since they left the military or their first responder profession.
"Meeting and reconnecting with like-minded individuals helps me to not feel so alone all the time in a world where I'm constantly misunderstood."

–Yellowstone OA participant
"It fills my heart to be around people who know what it's like to see things and experience things that most people don't understand. To see and feel the trust and openness between Sheep Dogs is amazing."

–Yellowstone OA participant
Throughout the trip, SDIA staff wove in research-driven and proven concepts and tools on struggling well following trauma and achieving posttraumatic growth, both of which are integral parts of the Warrior PATHH training curriculum. When these tools are implemented, traumatic experiences can help each person turn their struggle into profound strength by making peace with their past, living in the present and planning for a great future.
Unique to this year's trip was that students from four of SDIA's first Warrior PATHH training courses got to reconnect face-to-face with their tribe. Since their 7-day initiation they've been interacting and having weekly calls, but most hadn't been together in person since their course months ago.
"It was great reconnecting with the other Warriors from my group. It was beneficial for me to see how they have thrived since the last time we were together."

–Warrior PATHH alumni on the Yellowstone OA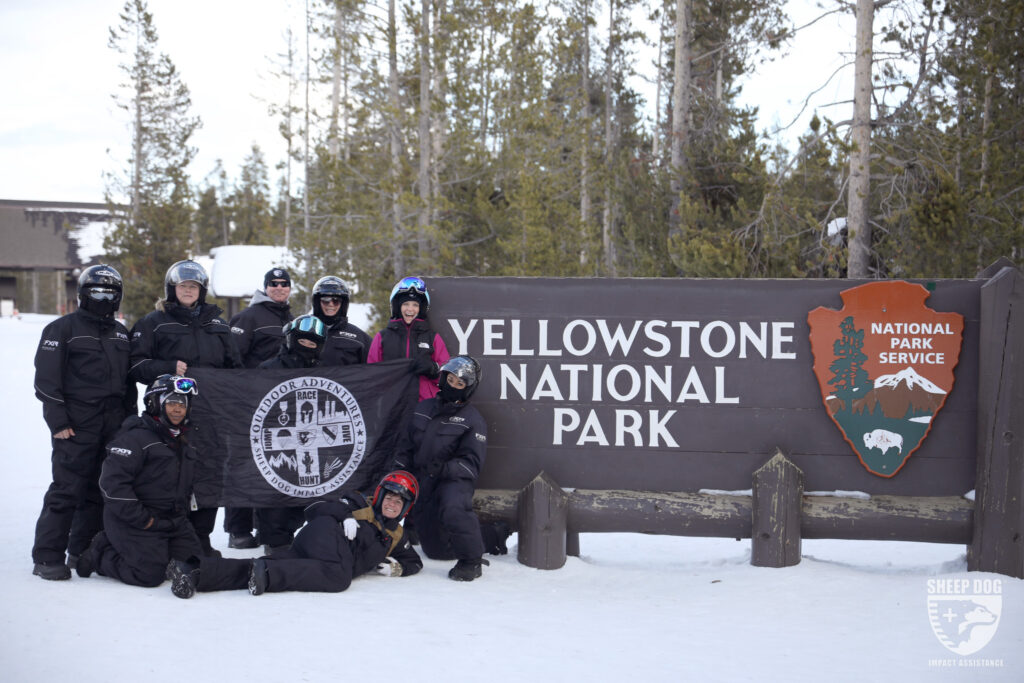 Snowmobiling in Yellowstone National Park found guides, staff and Sheep Dogs alike appreciating the vast beauty of the mountains and forest in winter. Seeing bison and wolves in the distance and speeding across the snowy trails was exhilarating. The guides took them along the Gibbon, Firehole and Madison rivers, rode through the geyser basins to Old Faithful, and stopped to see the Fountain Paint Pots, Sapphire Pool and other breathtaking scenery. Free time to ride the trails brought many the experience of teamwork to get the machines unstuck, strengthening the bonds they had already made.
The group also spent time sightseeing, shopping and dining in West Yellowstone, watched an IMAX movie on the history of Yellowstone, and visited the Grizzly & Wolf Discovery Center.
This Outdoor Adventure would not have been the incredible experience it was without the support and generosity of the companies and people that worked with us. Huge thanks goes to:
To view the full album of images from this Yellowstone Outdoor Adventure, visit our Facebook Album.
If you or a Sheep Dog you know are in need of camaraderie or encouragement to make positive life changes, contact SWest@SheepDogIA.org or TRuble@SheepDogIA.org to get on the list for one of our future Outdoor Adventures.