As SDIA Disaster Response Teams (DRTs) work to assist those affected by Hurricane Irma in Florida, DRTs will also redeploy on Thur., Sept. 14, to Rockport, Texas, to continue with muck-out operations in that area.

While we await news of their hard work, here is a recap of – and a few stories from – the recent Disaster Response Mission (DRM) to Texas.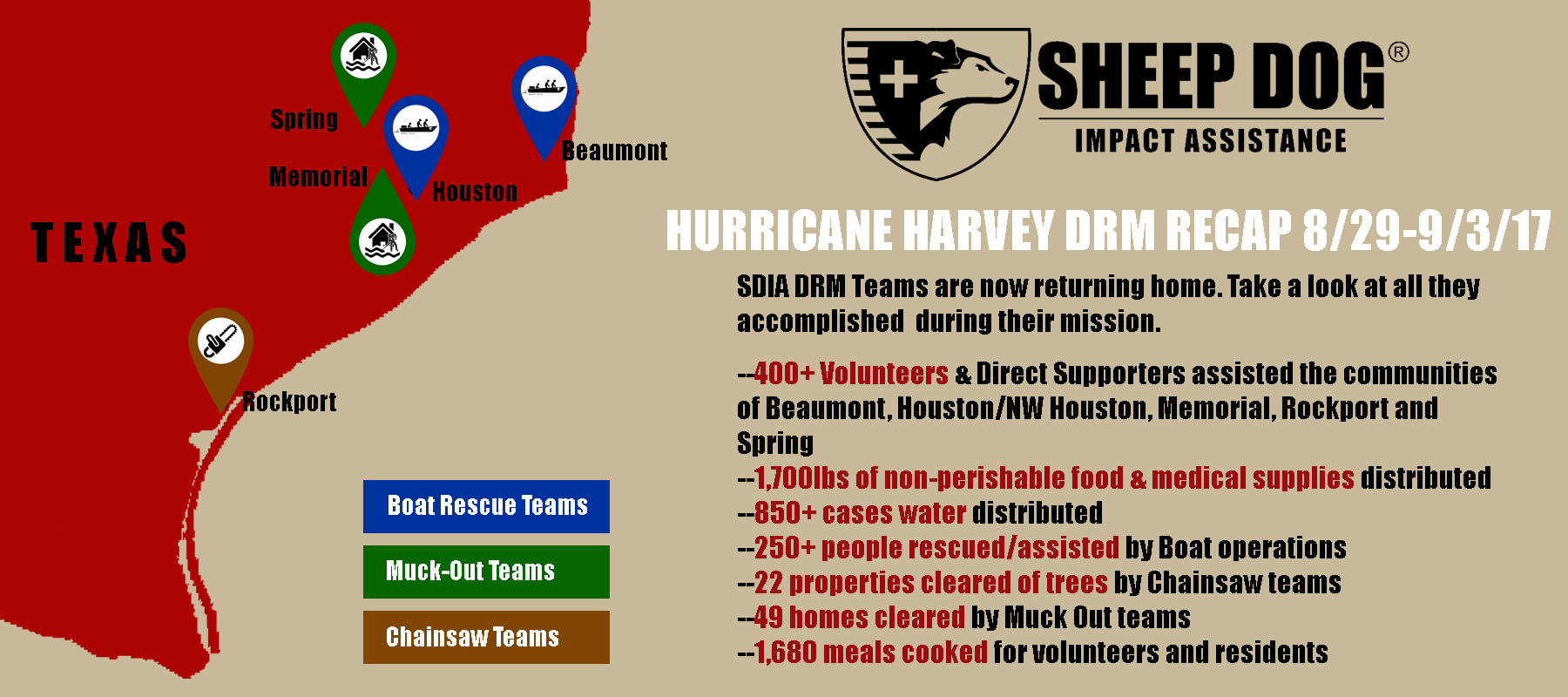 The first DRT departed from Northwest Arkansas the evening of 8/29, stopping at Bethel Ranch in Texas to rest for the night – THANK YOU for your generosity and hospitality, Bethel Ranch! The next morning the DRT continued to Houston. On the way, they stopped to visit Non-Profit Partner, Carry The Load (CTL), in Dallas. CTL blessed SDIA with a $20,000 contribution toward assistance efforts, and 3 truckloads of supplies the next day. Thank you, Carry The Load!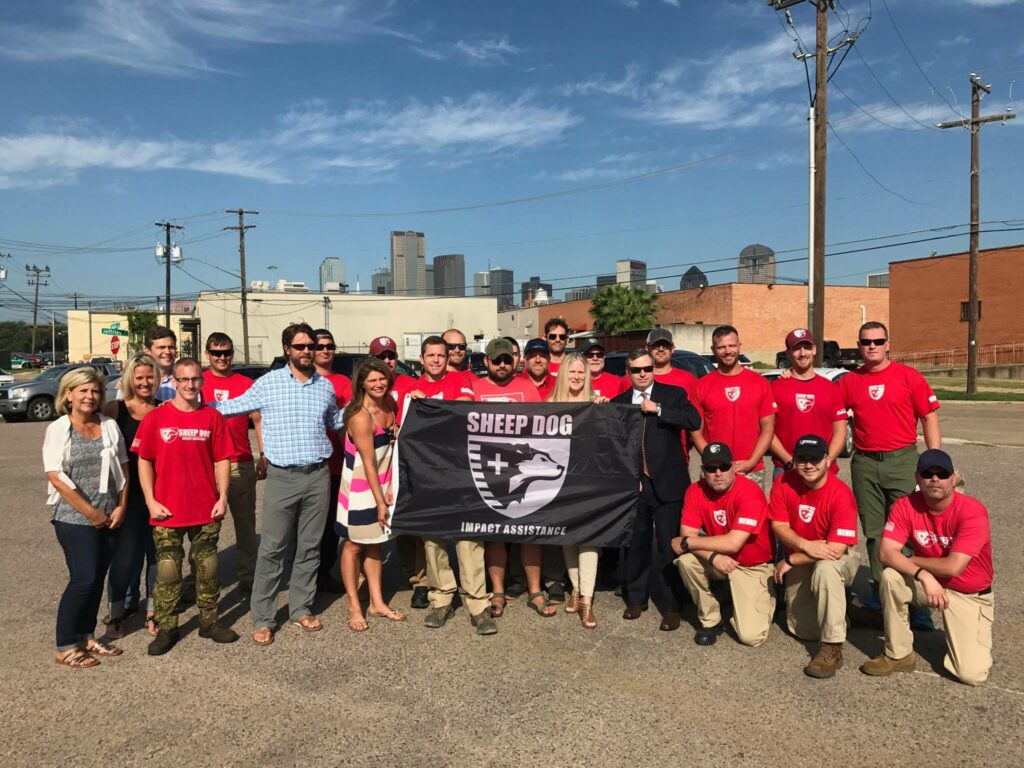 After arriving in Spring, TX, the DRT set up their Command Center, and once they began receiving work orders, the teams got after it.

During this mission, the over 400 DRT members consisted of members an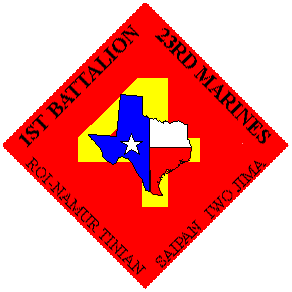 d volunteers from many SDIA Chapters and Teams, including: Central Arkansas, Eastern Tennessee, Greater Cincinnati, Kansas, Michigan, North Texas, Northeast Oklahoma, Northwest Arkansas, San Antonio, Washington and Western North Carolina, as well as the National Office. In addition, 75+ Houston-area Marines and sailors from the 1st Battalion, 23rd Regiment joined in. (Check out their Facebook pages for more photos and news!)

This DRM was the first time we conducted boat rescue/assistance operations. The "SDIA Navy" was 7 boats strong – five were member/volunteer boats, and two were given to SDIA through the generosity of Andy Bossler and Brian Buckminster of ProTrucks and Broadway Contracting in Siloam Springs, AR. Our Navy rescued and assisted many people, and brought food, water, and medical supplies to flooded Houston and Beaumont neighborhoods.


Early work orders consisted of boat rescue/assistance and some chainsaw operations; as water receded, operations focused on chainsaw and muck-out work. The DRTs worked in 7 locations within Beaumont, Houston, NW Houston, Memorial, Rockport, and Spring.
When all the work was done and the DRTs were headed home, they had:
Distributed 1,700lbs of nonperishable food & medical supplies;
Distributed 850+ cases water;
Rescued/Assisted 250+ people via boat operations;
Cleared 22 properties of trees with chainsaw teams;
Mucked-out 49 homes with muck out teams; and
Cooked 1,680 meals for volunteers and residents.

It was a privilege and honor for SDIA DRTs to assist our nation's heroes and fellow Sheep Dog families in their time of need. Teams took care of fellow Sheep Dogs' home first, then helped their immediate neighbors. Of the hundreds of people SDIA assisted, here are a few of our favorites.

On Sat., Sept. 2, our DRTs finished their work at Vietnam Veteran Sgt Hanover's home. He and his family lost everything in this flood, but he was overjoyed that half of the Sheep Dogs working on his home were fellow veterans. He became emotional multiple times as young warriors stopped to visit with him. But the DRTs had a special surprise for him. As they were mucking out the home, they found an old USMC blanket that had been saturated with water and mud. Unbeknownst to the Veteran, the team took the blanket and had it dry cleaned. The next day the DRTs went back to Sgt Hanover's home and presented him with his like-new blanket. He was again overcome with emotion, and thoroughly enjoyed visiting with the 1/23 Marines and SDIA volunteers after the presentation.

Army Vietnam Veteran John Hollins' home in Spring has been overcome by floodwaters three times since he's lived there, but each time it has survived, been fixed up and readied for another fight. The same can be said for Hollins; during his years in the Army, he proved himself both a survivor and a hero, earning the Purple Heart three times. With the support of his family and SDIA's disaster response team, his home was cleared out and will once again be ready for the next fight.
On Sun., a DRT was working in a north Houston neighborhood and came across an elderly couple in their 90s and their disabled son. The first floor of their home had spent three days underwater while they lived on the second floor. Even after three days, this family was still in a state of disbelief and unsure where to begin the cleanup process. Our team spent the afternoon helping them clean out their home, and in the process found and salvaged an old WWII photo of the 710th Railway Grand Division, of which the home owner, Sgt. Ivan Rice, was a member. This division served in support of Patton's 7th Army as they made their way across Europe.
Sgt Rice is on the top row center.

SDIA would like to again thank the
Keith Ashley family and their neighborhood
for their tireless support of all our disaster response teams. The Ashley family opened up their home, allowed our DRTs to set up their Command Center, and gave team members a place to shower, eat, rest and sleep each night. Neighboring families also opened their homes to members, and even collected the muddy, grimy clothing and laundered them each evening. Without the Ashley family and their neighborhood's support, our exhausted, weary teams would have headed home much earlier.
Special thanks also goes to SDIA's
North Texas Chapter
for coming down and feeding the DRTs, as well as the families in nearby neighborhoods. In total, they fed nearly 1700 people! Thank you for your support!
To make a secure, online donation to our Disaster Response Missions,
click here
!